Trans-Am Racing
You can see it in Bud Moore's eyes…like when his new rookie charge Darrell Waltrip put No. 15 on the outside pole at Richmond the second time he ever sat in the car … or when he eases open the throttle on his $50,000 Heenan & Froude dyno to test his latest Ford mini-motor.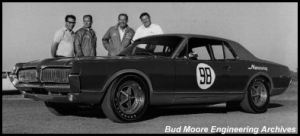 Bud Moore's are the intense, serious, searching eyes of a perfectionist … a man they call "the wizard". A man whose cars have been driven by the likes of Jack Smith, Speedy Thompson, Buck Baker, Joe Weatherly, Darel Deiringer and David Pearson to more than 100 NASCAR victories and three Grand National Championships during a career spanning 25 years. He is an expert on engines, chassis, race strategy – and people.
And because of Bud's quiet and unassuming nature, not many folks outside the NASCAR fold knew that … until 1967 anyway… when the Lincoln-Mercury Division of Ford Motor Co. tapped Moore as their man to lead a factory assault on the Sports Car club of American Trans-Am championship.
Now Bud Moore hadn't exactly earned his stripes on the road racing tour, but the Mercury people were impressed with the way he had taken their little intermediate-sized Cyclone (nicknamed "Little David") and forged it into a tough competitor on the Grand National circuit the year before. You could say they had a "hunch", and lots of the faith that just seems to assimilate when you watch Bud Moore at work …!
With Parnelli Jones, Dan Gurney and Peter Revson driving, the Bud Moore Cougar Team put electricity into the Trans-Am series, winning four races and just missing the series title – won by the Ford factory team – by just two points. Not bad for the first time out against the "sporty car set".
In 1968, Moore was given the task by mercury of winning the NASCAR Grand Touring championship, and did so with Tiny Lund taking 11 of 18 events.
Moore returned to the Trans-Am battle-of-the-factories in 1969 – this time with Ford – where he pushed Chevrolet's seemingly unbeatable combo of Penske-Donohue to the wire in one of the most competitive Trans-Am seasons on record. But it would be the 1970 season when the impact of Moore's underdog effort on behalf of Ford would be fully felt.
With Parnelli Jones and George Follmer tearing up tracks from Watkins Glen to Riverside, and Bud Moore at the wrenches and stopwatch, Ford won its most convincing championship ever, scoring six wins and three seconds in eleven races, underwriting the sage of the Ford Mustang.
No other car building in NASCAR history had ever ventured into the ranks of any other form of professional auto racing to win a major championship.
But Bud Moore is an experimenter … an innovator … and an engineering genius who doesn't really care whether the track turns left or right or both.
And his mastery of the small-block Ford engine has led him into new research and development with FoMoCo. This time with the 351 cubic inch Cleveland engine in a Torino stock car chassis.
Dubbed the "mini-motor", it has presented no small challenge to the "wizard", who must send his No. 15 into the NASCAR wars against 427-430 cubic inch-powered competition.
But challenge is Bud Moore's thing. You can see it in his eyes.
Transam History Bud Moore Cougar
---
Trans-Am Record
1967    Four Victories in 11 Races
        Second in SCCA Trans-Am Series Points
        Parnelli Jones/Dan Gurney/Peter Revson


1969    Three Victories in 12 Races

        05-11 - Wolverine Trans-Am/Brooklyn,MI      Parnelli Jones
        06-22 - Bridgehampton Trans-Am/NY           George Follmer
        07-06 - Donnybrooke Trans-Am/Brainerd,MI    Parnelli Jones


1970    Six Victories in 11 Races
        SCCA Trans-Am Champion
        Parnelli Jones/George Follmer

        04-19 - Laguna Seca Trans-Am/Monterey,CA    Parnelli Jones
        05-09 - Schaefer Trans-Am/Lime Rock,CT      Parnelli Jones
        05-31 - Herald-Traveler Trans-Am/Louden,NH  George Follmer
        06-07 - Mid-Ohio Trans-Am/Lexington,OH      Parnelli Jones
        09-20 - Kent 200/Kent,WA                    Parnelli Jones
        10-04 - Mission Bell 200/Riverside,CA       Parnelli Jones


---
@ Homepage @ Team History @ 1996 Race Results @ 1997 Race Schedule
@ About Bud Moore @ 1997 Team Roster @ Photo Gallery
@ @ WWW Links @ E-mail
---
© Copyright 2023.

All rights reserved.
Bud Moore.US